Features
---
The effective ingredients in the micro-powder of herbal plants such as Platycodon grandiflorum and Polygala can directly act on the affected part of the throat.
Activates the movement of cilia in the throat, promotes expectoration and suppresses coughing.
The unique mild medicinal effect of herbal plants does not burden the body and effectively relieves symptoms of discomfort.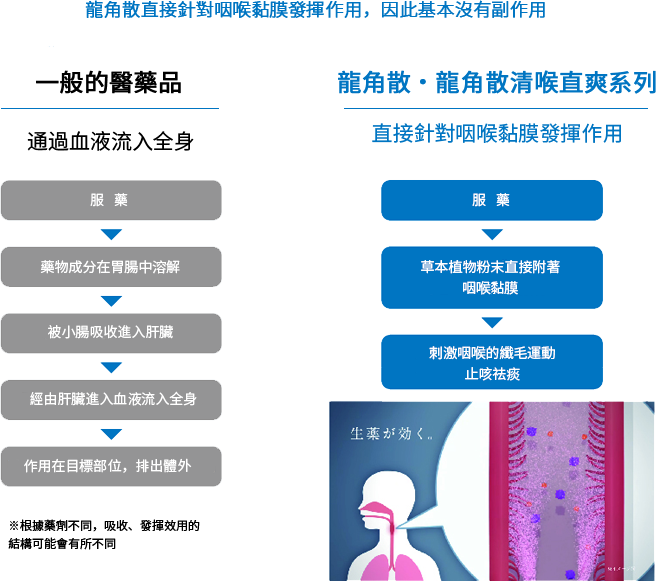 The inner surface of the human trachea is full of cilia cells. These cilia vibrate at a rate of 1500 times per minute. When dust and bacteria enter the body through the trachea, the mucus secreted by the inner wall of the trachea will wrap these foreign bodies and pass through the cilia. Vibration is excreted from the body, which is the self-purification effect of the human body.
Excessive use of the throat, smoking, or inhalation of dirty air can cause inflammation of the throat, sputum production, weaken the body's own purification function, and make the cough worse. At this time, taking Longjiao San, the main ingredients of Platycodon grandiflorum and the active ingredients contained in Polygala can effectively increase the secretion of mucus on the inner surface of the trachea, accelerate the movement of cilia, and achieve the effects of relieving cough, expectorating, and reducing inflammation.
Efficacy
---
Cough, expectoration, hoarse voice caused by throat inflammation, dry throat, throat discomfort, sore throat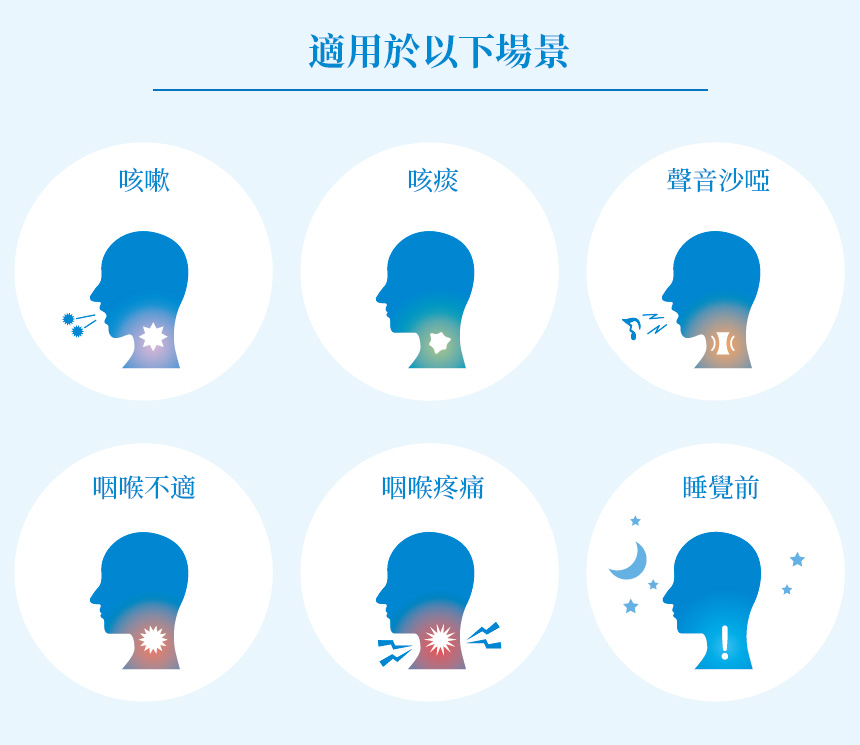 Usage and Dosage
---
According to the following dosage (1 scoop 0.3g), take it with the attached small scoop
Longjiao San directly acts on the mucous membrane of the throat and exerts its efficacy
Not suitable for swallowing with water
Age
1 dose
Number of daily doses
Adults (over 15 years old)
1 scoop
3-6 times
Over 11 years old and under 15 years old
2/3 scoops
Over 8 years old and under 11 years old
1/2 scoop
Over 5 years old and under 8 years old
1/3 scoop
Over 3 years old and under 5 years old
1/4 spoon
Over 1 year old and under 3 years old
1/5 scoop
Over 3 months and under 1 year old
1/10 scoop
Less than 3 months

Do not take

Notes on usage and dosage

(1) Strictly follow the usage and dosage.
(2) Children should take it under the guidance and supervision of parents.
(3) Infants under 2 years of age, please seek medical attention first, and take this product as a last resort.

Ingredients and content

---

For every 1.8g (adults per day)

| | |
| --- | --- |
| Ingredients | Content |
| Platycodon grandiflorum powder | 70.0mg |
| Almond powder | 5.0mg |
| Meiyuanzhi powder | 3.0mg |
| Licorice powder | 50.0mg |

Additives: calcium carbonate, calcium hydrogen phosphate, magnesium carbonate, benzoic acid, fragrances