SUPER CLEAN surface treatment
The vacuum flask is an item that is used every day. Therefore, we will be more obsessed with its cleanliness and ease of cleaning. The SUPER CLEAN mirror processing technology used in the cup is not easy to leave odors and stains. Simply rinse with clean water to keep it clean.

Crash and wear-resistant cup sleeve
The bottom of the cup sleeve is thickened with a three-dimensional molded resin that is not easily damaged, which is enough to cope with the small collisions of children's daily life and make the thermos cup more durable. This cup sleeve can also be cleaned directly.
Dual-purpose cup lid for different purposes
Comes with 2 kinds of cup lids: one-click open drinking straw lid and hot drink lid, to meet the different needs of children indoors and outdoors throughout the year.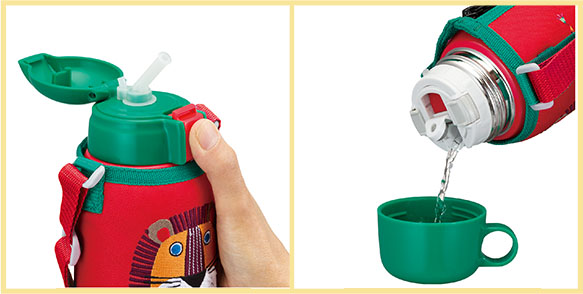 About "colobockle"
Tachimoto Michiko was born in Ishikawa Prefecture, Japan in 1976. Graduated from the Design Department of Osaka University of Arts. Served as a visiting associate professor at Osaka University of the Arts. Host a multimedia project "colobockle" aimed at children.
Model
MBR-S06G
Pattern
Sheep (Y), Lion (R), Echidna (A)
Inner material
304 stainless steel
Capacity
0.6L
Insulation performance (6 hours)
73°C or above (cup-lid type)
It is not recommended to fill in overheated beverages to prevent children from getting burned.
Cold insulation performance (6 hours)
8°C or below (drinking tube type)
Insulation cup size (cm)
Cup lid type: 8.4×9.5×19.3; straw type: 8.4×8.4×19.9
Insulation cup weight (kg)
Cup lid type: 0.39; straw type: 0.38
Cup width (cm)
4.1
Insulation cup accessories
Detachable cup sleeve and cup strap, straw lid, cup lid
Remarks
If you use straws, it is not recommended to fill beverages above 40°C.
Insulation cup size: width x depth x height